What does Freedom have to do with Money?
Does Freedom really have anything to do with money and vice versa? I am writing this post as I reflect on my life as summer comes to an end and fall is about to begin.
As I reflect on the summer, I am aware of my failings in many areas. One of those areas is money, and how it has affected my freedom in many ways.
I've taken my Freedom for granted and I've not improved my money situation as much as I had hoped. It's no ones fault but my own, I take ownership.
So from now on, I'll be honest with myself and I thought I'd share here too.
You have landed on this post, on this website, and this website is about my business. I believe I am a huge factor in the success (or lack of it) in my business. I created a category called "Freedom " where I am sharing personal things about myself, my life and my business.
After all, if you are going to do business with a business owner, isn't it nice to really get to know the person you are doing business with? I think so. It's about relationship after all.
so, here's what I posted in my Facebook profile when deciding to enter a days of summer contest. It's a bit vulnerable, but I'll share anyways
Facebook Post About Money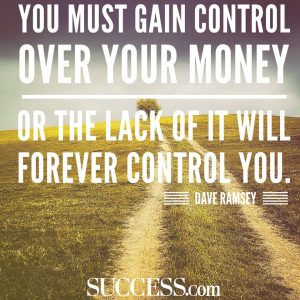 "You Must Gain Control Over Your Money, or the Lack Of It Will Forever Control You" – Dave Ramsey

I've been lazy and slacking when it comes to being in control of my finances. NOTHING emphasizes that more than choosing to live in a place where everything costs more. #justsaying
As I continue to work on myself, and improve in various areas of my life, my finances are big one.


One of my biggest challenges up until now, has been creating a budget and sticking to it. Just never could seem to get in the habit of just doing it.


I honestly had NO clue where my money was going and that didn't feel good. It feels uncomfortable to just hope that you'll make ends meet, not really knowing the bottom line. Never mind the unforeseen things that pop up, and you know they do!


After getting started with 101 Financial, under the guidance of my friend and leaders, Kevin and Jessica Carvalho, I understand the importance of getting my finances in order.


I Have BIG Dreams… and no, I don't mean the fancy car, the big mansion(I do want to buy a home), nice clothes… Honestly, I want to be able to do more for my family, and those around me, but I can't give what I don't have.


Not going to lie… I still don't have it perfected, I've been slacking, but I'm getting better every day at actually creating a budget, cutting out non essential costs, creating a savings plan and actually saving a little bit of money, and keeping my goals in mind when I'm tempted to splurge.


#Truth be told, I was skeptical about joining yet another financial guidance course, but 101 took me back to basics I should have known by now. I now have the tools to do what I need to do…the rest is up to me.


I've not been moving at this as quickly as I could, but I'm excited about finally gaining some control over my money so it doesn't have control over me.


I've gained a lot of clarity in what my priorities must be in my business, my life, and honestly, I feel I cant do much for others until I get my house in order.
#101Financial
What Does Freedom Mean?
For me, Freedom is about doing the things I want to do, when I want to do them without worry or concern over being able to afford it.
I own and operate my own business as a digital marketing agency for local business owners. At the moment, I'm a one woman operation. I plan to grow. Growing means making more money to be able to hire and train others and support their economy while I support my own economy.
By being of value to other business owners, I grow my business, and I also help others support their families etc. Everyone involved basically gets to enjoy the Freedom of life they desire.
Win Win, Right?!?!
What are your thoughts about Money and Freedom?
I'd love to hear what you think about this topic. Please share your thoughts in the comments below and if you need any help marketing your business online, be sure to contact me using the contact page of the form below.
To Your Success,
Regina