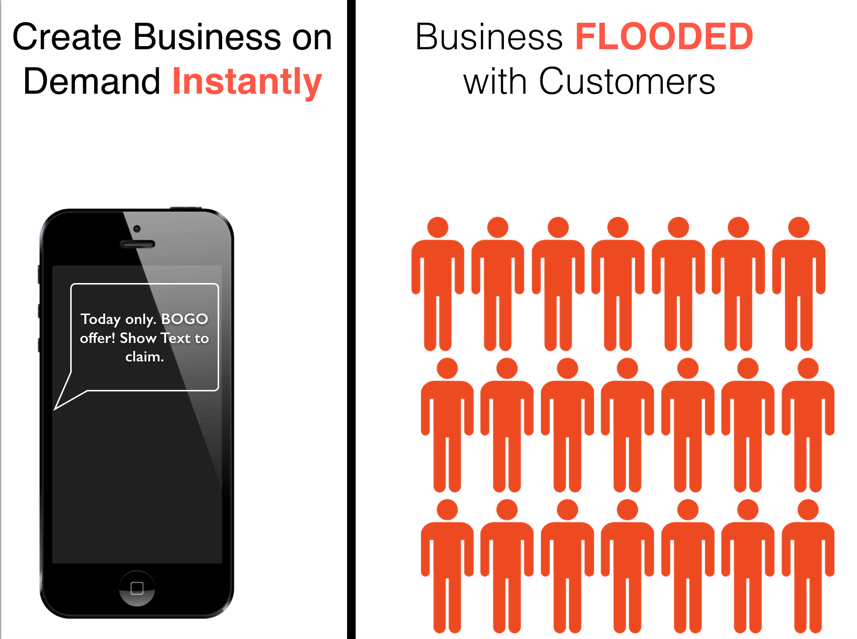 What is a Birthday /VIP Club?
A simple answer about what a VIP Club is: Besides offering coupons for birthday and anniversary celebration, we help you create a VIP Club list of new and existing customers that you can leverage for email/text message blasts when you need to generate more business.
On Demand Customers? Yep, pretty much
3 Ways for Your Business to Generate More Revenue:
Charge More /Increase Prices – Doesn't usually go off very well, especially with existing customers who've been coming around for some time.
Get More New Customers – Done via advertising of some kind.
Sell More to Existing Customers – this is the easiest the easiest opportunity is to increase customer frequency. Meaning, to get existing customers to come back more often. If you think about it, it just makes sense. If a business can get a regular that comes in 1x a month in 2x per month, they've just doubled sales. This is the easiest to implement, especially when you've been building a VIP list.
Why Should I Be Targeting Existing Customers?
Marketing Metrics state that the chances of selling to new customers are 5-20%, whereas with existing customers it reaches 60-70% – Gartner
It is generally recognized that acquiring new customers costs between 4-to-6 times more than to get existing customers back again." – Gartner
Repeat customers generated three to seven times more revenue per visit. – Adobe
Compared to first-time shoppers, repeat customers are 9 times more likely to convert. – Adobe
Basically, this means that marketing to your existing customers is always going to be more profitable.
What a VIP Club Can Do
A VIP club captures contact information of your customer/client and allows you, the business, to market in the most effective wasy possible, via channels that are guaranteed to reach them: SMS & EMAIL.
In today's, SMS and email are great ways to get in touch with existing customers. Having the ability to reach your customer, practically on demand, allows your business to easily increase revenue, by marketing specials/discounts/coupons.
Marketing to people where their attention is, just makes sense. Here are some stats to show you the effectiveness of SMS & Email:
Over 90% of text messages are read within the first 3 minutes. -State of SMS
91% of Americans keep their mobile devices at arms length at all times. -Morgan stanley
Texting is the #1 preferred channel of communication from businesses. -Open market
SMS sees an engagement rate 6-8 times higher than email marketing -60secondmarketer
Are you ready to take your business to the next level, with a simple and affordable strategy?
Get Your Questions Answered